Jazzy Diva: Past, Present & Forever

Professional vocalist, Erica McGee performs a production featuring all the best of the female jazz greats from yesterday and today! From Ella Fitzgerald to Diana Krall, this show has all the tunes you remember. Ballads like "Someone to Watch Over Me" and up tempo numbers like "Fever", standards like, "I've Got a Crush on You" and top-tappers like "Route 66". This show keeps it cool while it plays it hot! With a professional Jazz combo or simply piano backing up Miss McGee, this intimate performance will keep your audience wanting more.
Decade Diva: Ladies of the 80's

It's a night of #1 hits! All the music performed in the production show hit #1 on the Billboard Charts in the 80's. You'll hear the audience saying over and over…"I used to LOVE that song!" Songs from Tina Turner to Pat Benatar…Dolly Parton and Juice Newton to Blondie & the Go-Go's, just to name few! Too many DIVAs to count. And don't forget all the movie soundtrack hits and those supersweet duets that were all the rage in the 80's! You won't believe the high energy in this production featuring Erica McGee and her team of talented musicians! Audience participation, 80's trivia and prizes. A night of reminiscing and fun!
Holiday Diva: Jingle Belles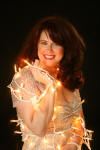 Erica McGee brings Christmas standards to a new level in this performance celebrating the season. Fun favorites like, "Rockin' Around the Christmas Tree" and "Santa Baby" along with a traditional section of holiday classics like "O Holy Night", "Have Yourself a Merry Little Christmas". This performance ends with audience participation carol singing. This show may feature full band or simply piano depending on your performance needs. A great way to celebrate the most wonderful time of the year!